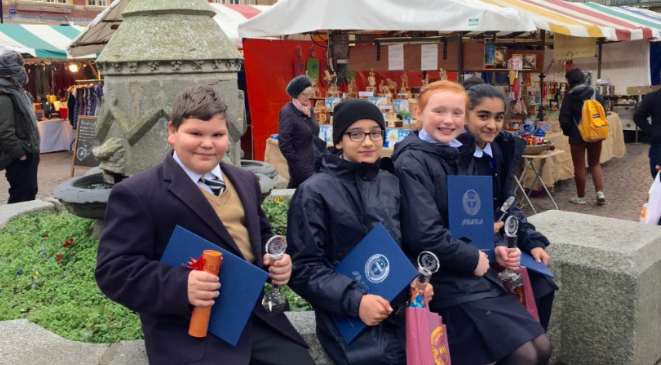 St John's Prep and Senior School's mathematicians visit Cambridge University
St John's Prep and Senior School, based in Enfield, Potters Bar, was delighted to be involved in the inaugural International Maths Challenge, earlier this month.

16 of the school's top mathematicians were selected to compete against visiting students from China.

Following the conclusion of the competition and the tests, all the participants were taken on a trip to the University of Cambridge to celebrate the event and receive their prizes.

The day trip to the University provided both sets of competitors with an opportunity to network and get to know one another.

The trip began with visits to the main Cambridge colleges of King's, Queen's and Trinity; the group also visited the school's namesake, St John's College in Cambridge.

Next, the St John's Prep and Senior School Cambridge Trip 2mathematics students visited the famous Mathematical Bridge, which although is curved in appearance, is constructed only with straight pylons.

Afterwards, the students enjoyed a very extravagant lunch with traditional Chinese food offered by our Chinese guests at a local restaurant.

In the afternoon, the students went Punting on the River Cam, taking in all the sights and history that Cambridge has to offer.

The final act of the day was the awards ceremony. All the competitors were awarded a certificate and trophy for their excellent achievements.

The ceremony took place in the Cambridge Union Society Hall and proved a grand and spectacular venue to bring to a close the first International Maths Challenge.

Well done to all St John's Prep and Senior School students who represented the school.

St John's Prep and Senior School Cambridge Trip

About St John's Prep and Senior School

●We have a combined 30 acres of land, all of which the children are able to enjoy.
●G.C.S.E performance League Tables: 100% 17 years running.
●Absolute maximum of 19 pupils per class.
●St John's Senior School hosts the largest official football tournament in Enfield/Middlesex to find representatives for the borough who then go on to the regional & national tournaments to compete for those 11 & under. These tournaments can involve up to 32 Enfield schools. St. John's hosts a total of 7 such tournaments a year, 2 of which are for girls.